Welcome to the all new G.O.T.T web site. This will be the one stop source for all you need to know about the 2003 tournament season.
On this site you will be able to check the Schedule to make sure you know when the tournaments are and at what time they start. You can also check out the Results for the most recent tournament, this page will be updated within a day or two following the event. The Point Standings will also be available so you won't have to wait until the next tournament to see where your team stands. Check the News & Updates, it will contain full details of any changes or upcoming events. You may want to check out the Photos and Links pages, you will probably find some interesting things there. If you must contact somebody you can find that information on the Contacts page.
So have a look around and good luck!
---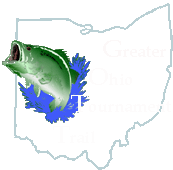 Thanks To:
Gander Mountain
---
Mercury Outboards
---
Boat Boys
---
Manns
---
Greenwood Hubbard

Chevy Olds
---
Ohio Pro Lure
---

Dutch Harbor
---
---
---
---